As of late we are seeing so many articles and commentaries on horse slaughter attempting to mislead the public into thinking that horse slaughter is a form of euthanasia. It is NOT.
Horse slaughter is NOT humane euthanasia. "Euthanasia" is defined as a gentle, painless death provided in order to prevent suffering.
Horse slaughter is a brutal and terrifying end which brings about enormous suffering. It is a huge subject, so today let us focus on the use of the stunning device commonly called the "captive bolt." It is in and of itself a major reason to stop the slaughter of our horses.
Use of the captive bolt
The captive bolt pistol was invented in 1903 by Hugo Heiss, former director of a slaughterhouse in Straubing, Germany.
The penetrating captive bolt pistol (also called a captive bolt, stunbolt gun, bolt gun or stunner) is the device most commonly used to render a horse unconscious in preparation for slaughter.
The goal of captive bolt stunning is to inflict a forceful strike on the forehead with the bolt in order to induce unconsciousness. For the non-penetrating bolt gun variation the bolt may or may not destroy part of the brain, while brain tissue is always destroyed with the penetrating bolt gun.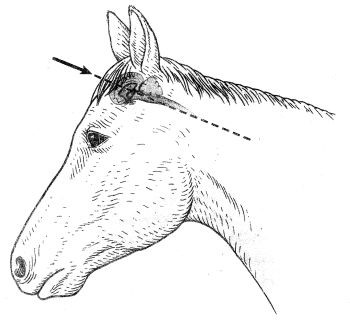 The bolt is activated by a trigger pull and is propelled forward by compressed air or a spring mechanism, or by the discharge of a blank round ignited by a firing pin. After striking a shallow but forceful blow on the forehead of an animal, spring tension causes the bolt to recoil back into the barrel.
The heightened fight-or-flight response typical of an anxious or frightened horse makes accurate pre-slaughter stunning difficult. As a result, horses often endure repeated blows and sometimes remain conscious during dismemberment.
This is only one of many, many examples why horse slaughter is horribly cruel and should be banned outright. Do not be fooled by the pro horse slaughter movement rhetoric that it is over "in a shot" and there is no fear or pain or suffering.
——
TUESDAY'S HORSE © FUND FOR HORSES