Updated by Patsy, 11th Aug 2021; 2:21pm EST
— First up, Avocado mayo
Here is what you need.
Avocado
Garlic
Lemon juice
Dijon mustard
Olive oil
Aquafaba (liquid from a can of chickpeas)
Once you've got your ingredients, there's really only one thing to do: blend! Yep, blend up the ingredients until they become one very creamy avocado mayo. Here are the tools you'll need:
Small blender or immersion blender: This avocado mayo lasts only 2 to 3 days, so we like making a small quantity. Because of that, you'll need a small blender, food processor, or immersion blender to blend it up since the quantities are so small. Blending it makes for a beautiful fluffy texture!
Standard blender / food processor: You can use a standard sized blender or food processor, but you'll need more quantity of ingredients to blend. So, double the recipe below to do that!
Whisk: If you don't have either of these tools, you can simply whisk together the sauce until it becomes smooth and creamy. However! It will be much chunkier and the texture won't be anything like the photos. Blending with the aquafaba really makes a smooth, creamy texture. But it will still taste good!
• About aquafaba
If you're a pro with vegan food, you'll know aquafaba. But if not, here's what you need to know. Aquafaba is the thick liquid that's inside a can of chickpeas. It's used in vegan cooking as a replacement for eggs and as a thickener. Believe it or not, you can actually use it like egg whites and whip it into vegan meringues.
That's it. Let me know how you use your avocado mayo. My daughter uses it for her chopped farm fresh tomato and onion pita bread sandwich.
— Hummus anyone?
Now that we have an open can of chickpeas, let's make some hummus — the obvious next step!
I do it from memory now; don't need a recipe. But I am no good at explaining how to do things. I am one of those people who rattle on giving what my husband calls extraneous information (I had to look that word up by the way).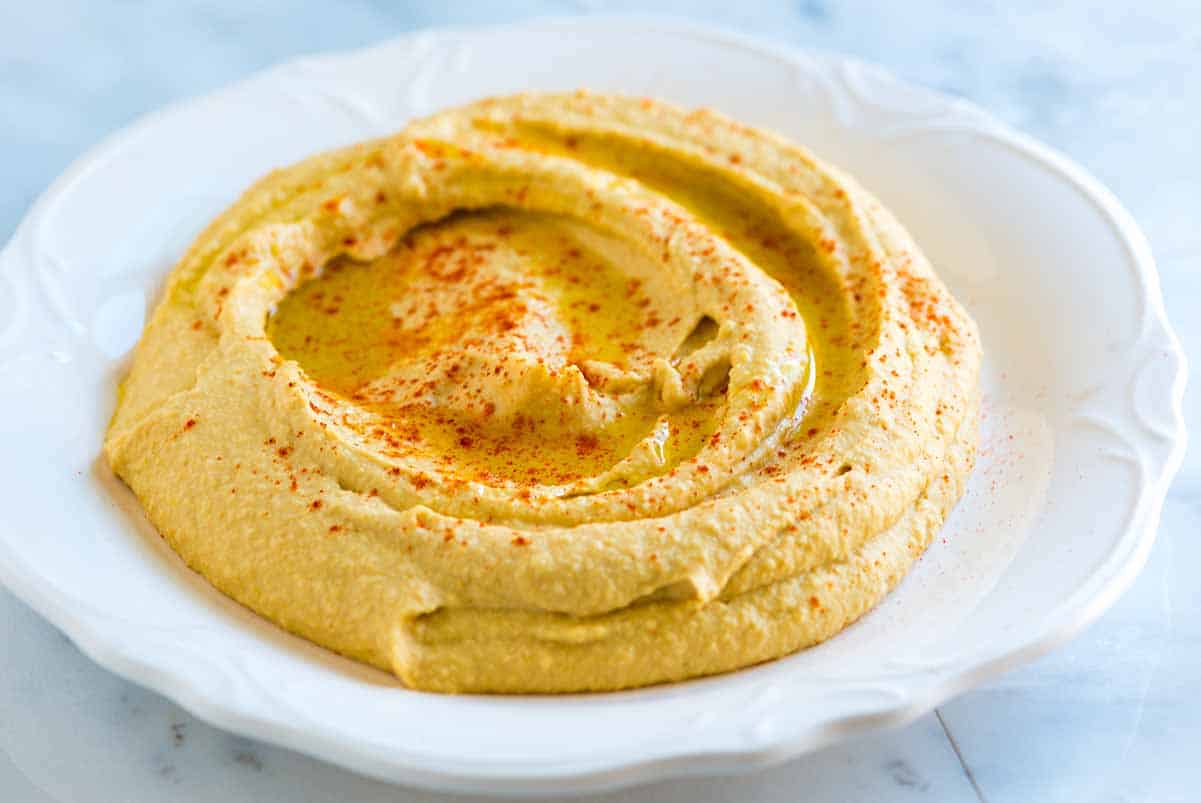 I love InspiredTaste.net's hummus recipe. And it is the best ever to my taste. And I've been making hummus for many many years. It's coming right up.
So, what's the secret for making the best hummus? Inspired Taste writes:
"It's simple really. It's the order in which you add ingredients to your food processor. Seriously, it's that easy. Tahini and lemon juice go in first. Then before you add anything else, turn on the food processor and let it run for a minute or so."
"From here, you can add ingredients as you will, but make sure you stand back and let that food processor run — we're talking a minute of running after adding each ingredient."
Aren't those the greatest tips? You will be making gourmet style hummus to everyone's happiness.
INGREDIENTS
1 can (15 ounces) chickpeas, rinsed and drained, or 1 ½ cups cooked chickpeas
½ teaspoon baking soda (if you're using canned chickpeas)
¼ cup lemon juice (from 1 ½ to 2 lemons), more to taste
1 medium-to-large clove garlic, roughly chopped
½ teaspoon fine sea salt, to taste
½ cup tahini
2 to 4 tablespoons ice water, more as needed
½ teaspoon ground cumin
1 tablespoon extra-virgin olive oil
Voila! Try it. I use my blender unless I am making a double batch, and it comes out fine (and easier to clean).
— Avocado pesto chickpea salad sandwiches
How about putting them together avocado and chickpeas together? This is beyond delicious. And so knock your socks off good for you. Woo hoo! Click image for recipe.
How about a tasty treat like the one coming up next? Wow oh wow. And isn't that pixelated avocado great looking? Here is is. Look.
— Avocado pesto toast
Featured image art
Avocado art is officially a thing. Feast your eyes before you feast your face, says an article by Marc Beaulieu, reporting for CBC Life in Canada. Anyway, you noticed I am sure that gorgeous avocado art image up at the very top. (Image Source: Instagram, @danielebarresi_artist)
Peace, love and horses.
TH
TUESDAY'S HORSE © FUND FOR HORSES